In the spirit of Halloween, let's delve into the complex and multifaceted history of ghosts and spirits within Chinese culture, which spans thousands of years.
Ghost (鬼)
The Chinese word for "ghost" is 鬼 (guǐ). It is generally used to refer to the spirit of a deceased person, but it can also be used to refer to other types of supernatural creatures, such as demons and monsters. Ghosts are typically depicted as being malevolent, but they can also be benevolent.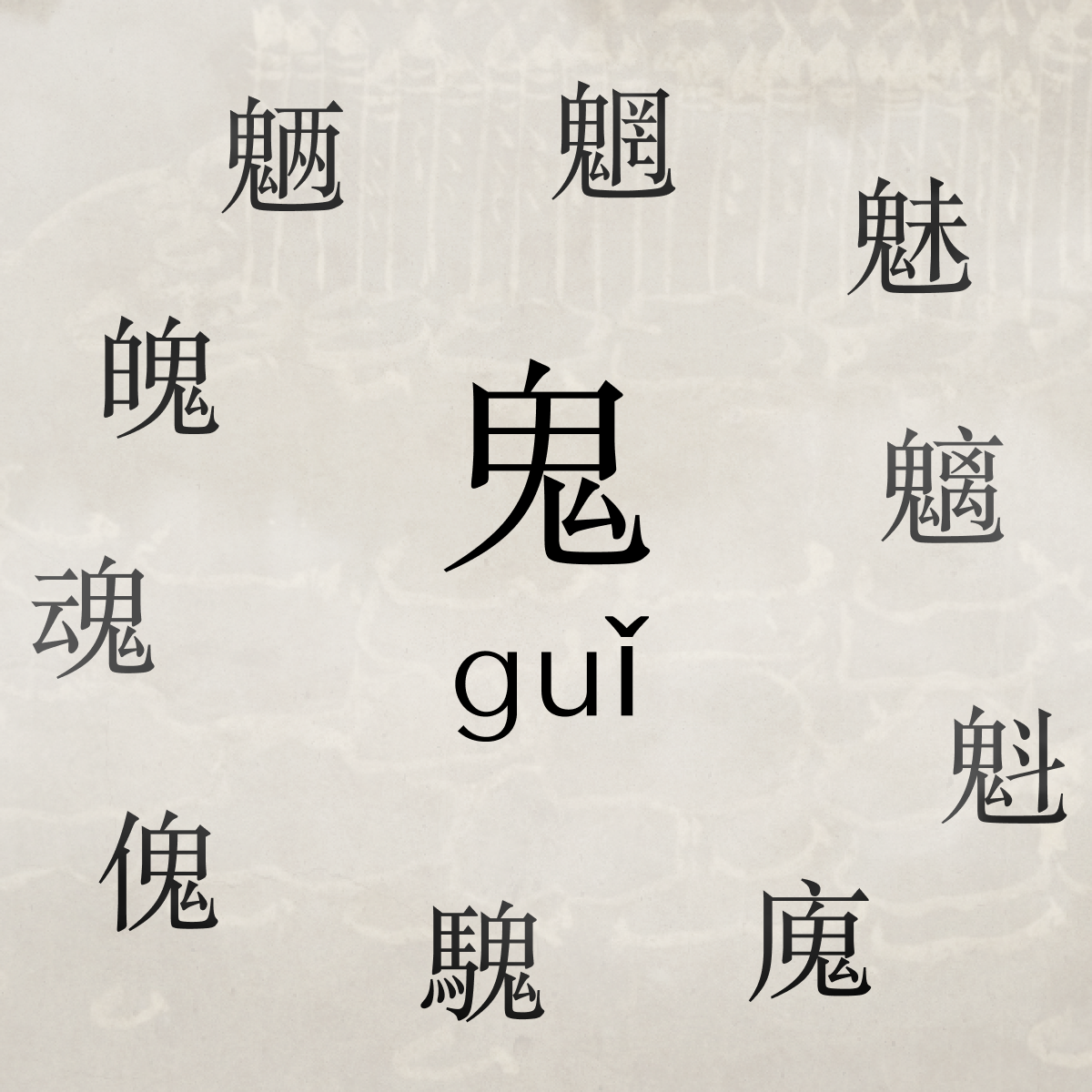 The belief in ghosts has a significant impact on Chinese culture. It is reflected in many aspects of Chinese society, including religion, folklore, and art. For example, the Chinese Hungry Ghost Festival is a major holiday that is dedicated to appeasing the spirits of the dead.
Common Types of Ghosts in Chinese Folklore
Hungry Ghosts (餓鬼)
These are ghosts who are trapped between the world of the living and the world of the dead, and are unable to move on to the afterlife. They are often depicted as being thin and gaunt, with large bellies and long, sharp nails. Most are not too dangerous, just leave them a plate of food and they'll be happy.
Vengeful Ghosts (冤鬼)
These are ghosts who experienced tragic and injustice, and seek revenge on those who wronged them. Vengeful ghosts are often depicted as being very powerful and more dangerous than the Hungry Ghosts, but they will likely forgive when apologized to.
Wandering ghosts (野鬼)
These are ghosts who have no fixed abode, and wander aimlessly through the world. Wandering ghosts are lonely and the least dangerous of the lot.


Other Aspects of Spirits and Ghosts in Chinese Culture
Traditional Chinese Medicine
There is a set of acupoints known as Sun Simiao 13 ghost points. Interestingly, they all share the word "ghost" (aka "guǐ"). These 13 ghost points are used to treat extreme mental situations such bipolar, schizophrenia, mania, confusion, and nightmares. These conditions were thought to have a spiritual origin and therefore needed to be resolved spiritually.
Ancestor Worship
Ancestor worship is a central part of Chinese culture, and it is closely related to the belief in ghosts. Chinese people believe that the spirits of their deceased ancestors can watch over and protect them. They often make offerings to their ancestors and pray for their blessings.
Taoism and Buddhism
Taoism and Buddhism are two of the major religions in China, and both religions have their own beliefs about spirits and ghosts. In Taoism, spirits are believed to be part of the natural world, and they can be good or evil. In Buddhism, ghosts are believed to be trapped in a cycle of suffering, and they can be helped to achieve liberation through Buddhist teachings and practices.
Chinese Folklore
Chinese folklore is rich in stories about ghosts and other supernatural creatures. These stories often teach moral lessons about the importance of kindness, filial piety, and other Confucian values.
Ghosts are neither good or bad in Chinese culture. They serve the purpose of introspection, remembering, letting go, forgiving, resolving, and celebrating the interconnectedness of life.
Wishing you a safe and happy Halloween!
Shop now
Shop now