Gua Sha is an important TCM practice that uses a smooth, flat tool to massage, technically scrape, the skin surface. The very first Gua Sha was used as far back as the Stone Age, predating acupuncture. It was fashioned out of a cosmic stone, Bian stone, that was formed 65 million years ago. During the Ming Dynasty (1368-1644), Gua Sha was incorporated extensively into the medical system.


Its value in TCM can be summed up in one sentence: "When there is free flow, there is no pain. When there is no free flow, there is pain (通则不痛, 不通则痛)." It is about the flow of Qi (vital energy). Gua Sha ensures its unimpeded distribution to all the meridians of our body, which leads to physical and mental health. This is why Gua Sha has long been prescribed for the treatment of many symptoms and conditions.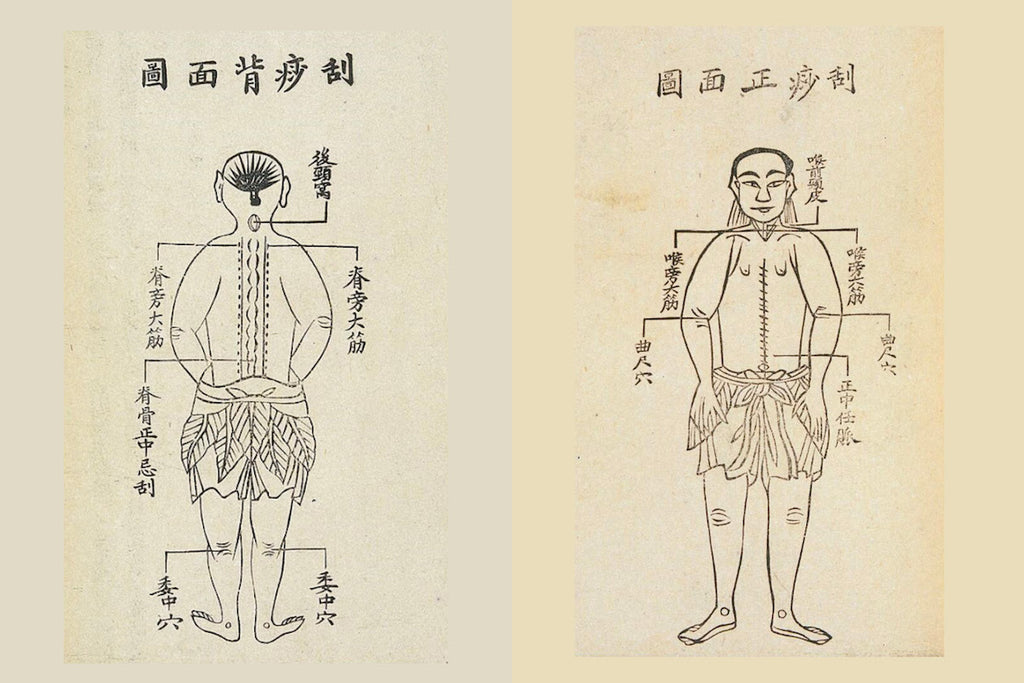 *Gua Sha illustrations from Fang Yi Chu Yan《防疫刍言》, a book on treating epidemic diseases by late Qing dynasty physician, Cao Ting Jie 曹廷杰
12 Benefits of Gua Sha
Gua Sha therapy can be performed by a trained practitioner or on your own at home for prevention and milder symptoms. That is why this ritual is rapidly gaining popularity. The multiple healing properties of Gua Sha therapy could not fail to attract the attention of modern researchers. Today, most of these properties have scientific evidence.
Blood Flow Improvement
Due to its scraping effect on the surface of the skin, the Gua Sha tool causes a rapid flow of blood to the treated area. This was proven by a study where scientists found that microcirculation increased 4 times during the first 7.5 minutes after applying Gua Sha and continued to increase for almost half an hour of the experiment. While these benefits decreased over time, they were measurable for almost 2 days post-treatment.

Neck Pain Reduction
Neck pain is a common problem due to our heavy use of laptops and gadgets in everyday life. One study has shown that Gua Sha can reduce chronic neck pain by 26% after just a week of therapy. Study participants using Gua Sha were 2 times more satisfied with the results than those who were treated with a heating pad during the experiment. Another study was conducted with the participation of active computer users with pain in the neck and shoulders. Again, Gua Sha significantly reduced the pain and also improved the mobility of the cervical spine.
Breast Fullness Mitigation
Overfilling the breast with milk is a problem familiar to almost all breastfeeding women. In addition to discomfort, it can lead to swelling and soreness. Women with these symptoms took part in a study that offered them Gua Sha therapy from the second day after giving birth until they were discharged. At the end of therapy, parturient women noted a significant decrease in pain and discomfort, and along with the facilitation of breastfeeding.
Perimenopausal Symptoms Relief
As we approach menopause, we may experience unpleasant symptoms such as fatigue, hot flashes, insomnia, and anxiety. One study divided women with these symptoms into two groups: the first received conventional therapy alone, and the second received an additional 15 minute treatment using Gua Sha once a week. At the end of the experiment, the second group reported a greater reduction in all symptoms than the first. This shows Gua Sha therapy as an effective, safe, and enjoyable remedy for perimenopausal syndrome.
Sleep Improvement
Gua Sha therapy deals with insomnia not only as a perimenopausal symptom. The science showed its effectiveness for different patients experiencing sleep problems. This ritual is reminiscent of meditation practice and therefore perfectly relaxes our body and calms our brain.
Skin Rejuvenation
It has been scientifically proven that blood flow decreases with age leading to the appearance of wrinkles and fine lines. Gua Sha, as we know, improves blood flow and therefore perfectly copes with the signs of skin aging. In addition, an increase in blood flow improves production of collagen and elastin, which means regular use of the Gua Sha tool will make your skin smooth and firm. So the study showed a significant reduction in facial expression lines and wrinkles after applying Gua Sha. Moreover, the more pronounced these signs of aging, the more pronounced the effect.
Skin Recovery
Gua Sha delivers fresh blood to the surface of the skin and renews damaged or dead cells. Thus, scraping action is similar to controlled trauma, it can encourage your skin to repair itself. This property is useful in healing burns, cuts, wounds, post-acne scars and all the same age-related manifestations. Thus, your skin is kept smooth, soft, and supple.
Skin De-Puffiness
This condition of the skin is a consequence of excessive accumulation of fluid. Luckily, this problem can be solved with a manual lymphatic drainage massage that removes fluid along with accumulated toxins and bacteria. Gua Sha can be used as a manual massage tool because of its ability to increase blood flow and lymph flow, as well as relieve tension from the face, which is typical for swollen skin.
Stress Fighting
The use of Gua Sha activates the parasympathetic nervous system. This in turn slows down your heart palpitations and puts your body into rest and relaxation mode. Thus, performing a pleasant ritual of Gua Sha before going to bed, you feel calm after a busy and stressful day.
Immunity Boost
Research has shown that Gua Sha therapy leads to an increase in immune active cells in skin tissues as well as a significant reduction in inflammation. This is why Gua Sha has traditionally been used to combat a wide range of ailments including but not limited to fever, chills, colds, and coughs.
Muscle Recovery
Scientists have concluded that Gua Sha therapy can be a good alternative for sport recovery. In particular, 65 weightlifters participating in the experiment reported that it became easier for them to perform weight exercises after Gua Sha.

Liver Treatment
In one experiment, a patient with elevated liver enzymes (causing inflammation) received Gua Sha therapy. Two days after therapy, scientists noted a significant decrease in inflammatory markers. While the effectiveness of Gua Sha for treating the liver is still being studied, science recognizes the potential of this ancient practice.
Incorporating Gua Sha for a few minutes into your daily routine is a simple and effective way to take care of your beauty, health, and well being. Try working on your face, neck, shoulders, body, and limbs and the result will not be long in coming.