Tremella mushroom, also known as snow fungus or Yin Er (银耳), is a type of edible mushroom that has been used in Traditional Chinese Medicine (TCM) for thousands of years for its numerous skin and health benefits. For example, Yang Guifei, a royal concubine from the Tang dynasty famed for her legendary beauty, is said to favor the snow mushroom for maintaining her flawless complexion.
In recent years, modern research proves the healing properties of Tremella which has made it gain popularity in the Western world for its skin benefits, both when ingested and applied topically.
Ingested Benefits of Tremella Mushroom
People in Asia have consumed tremella mushroom for centuries. When ingested, this snow fungus can provide numerous benefits for the skin. Tremella mushroom contains a unique type of polysaccharide called Tremella Polysaccharide (TP), which has been shown to stimulate the production of hyaluronic acid in the body.
Hydration Powerhouse
Hyaluronic acid is a natural substance found in the skin that helps to retain moisture and keep the skin looking plump and hydrated. As we age, the production of hyaluronic acid in the body decreases, leading to dry, dull, and wrinkled skin. By stimulating the production of hyaluronic acid, tremella mushroom can help to improve the overall appearance and health of the skin.
Eczema Relief
In Chinese medicine, tremella is Yin Tonic that is often prescribed to nourish fluids in the body, reduce dryness, boost immunity, and calm skin's inflammation like eczema, acne-prone, itchy and redness in the skin. Tremella contains high amounts of polysaccharides, which have been shown to have anti-inflammatory and immune-modulating effects.
TCM Recipe: Sweet Tremella Soup (
银耳汤)
One of the easiest and most delicious ways to incorporate tremella mushroom into your diet is by making a TCM medicinal dessert soup.
Ingredients
- 1-2 whole dried Tremella
- Purified Water
- 10g Goji Berries (or a small handful)
- Honey or a sweetener of choice (optional)
- Jujube dates or longan berries (optional)
Instructions
1. Soak the dried tremella mushroom in cold water for 60 minutes or overnight until it blooms into a fluffy, jelly cloud with soft texture.
2. Rinse the tremella mushroom and trim it into small pieces. Discard any hard bits, especially the core.
3. In a pot, add the tremella mushroom and enough water to cover. Optional - place jujube dates or longan berries into the pot.
4. Cover with a lid and bring the mixture to a boil. Then reduce the heat, and simmer for 1 to 3 hours, until desired softness. The longer the simmer, the softer, thicker, and more jelly-like the texture becomes.
5. Add goji berries at the end of cooking while the soup is still hot.
6. Sweeten to taste. Serve warm or chilled. Enjoy!
This makes a huge pot, so you can keep it in the refrigerator and enjoy it throughout the week as a snack or breakfast. This sweet soup is not only delicious but also provides numerous health benefits for the skin. The tremella mushroom helps to improve skin hydration and plumpness, while the goji and jujube provide a natural source of sweetness without spiking blood sugar levels.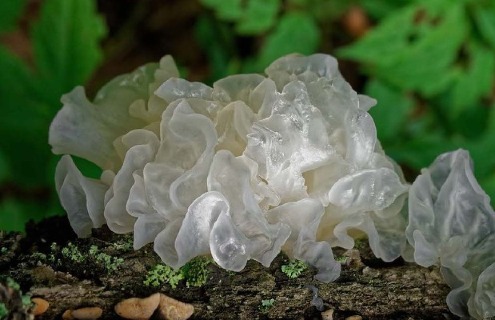 Tremella mushroom is a powerful ingredient that can provide numerous benefits for the skin, both when applied topically and ingested. By incorporating tremella mushroom into your diet and skincare routine, you can improve the overall health and appearance of your skin. Find this hydration powerhouse fungus in YINA's Bioadaptive Cleanser, Essential Mist, Hydracloud Cream, and Divine Bio-cellulose Mask.