YINA
Divine Bio-cellulose Mask
A Multi-Correctional Treatment
Hydrates. Balances.  Soothes. Rejuvenates. Brightens.

Inspired by the ancient wisdom of Chinese Medicine and created with modern alchemy, this bio-cellulose mask is formulated with east Asian medicinal herbs and skin-plumping peptides to enhance your skin's self-renewal. 

Each sheet goes through 21-days of fermentation and is infused with Ginseng, Centella, Licorice, and Evening Primrose to stimulate your skin's natural process of rejuvenation.  Get a dewy, luminous, hydrated, and rejuvenated complexion in 15 minutes.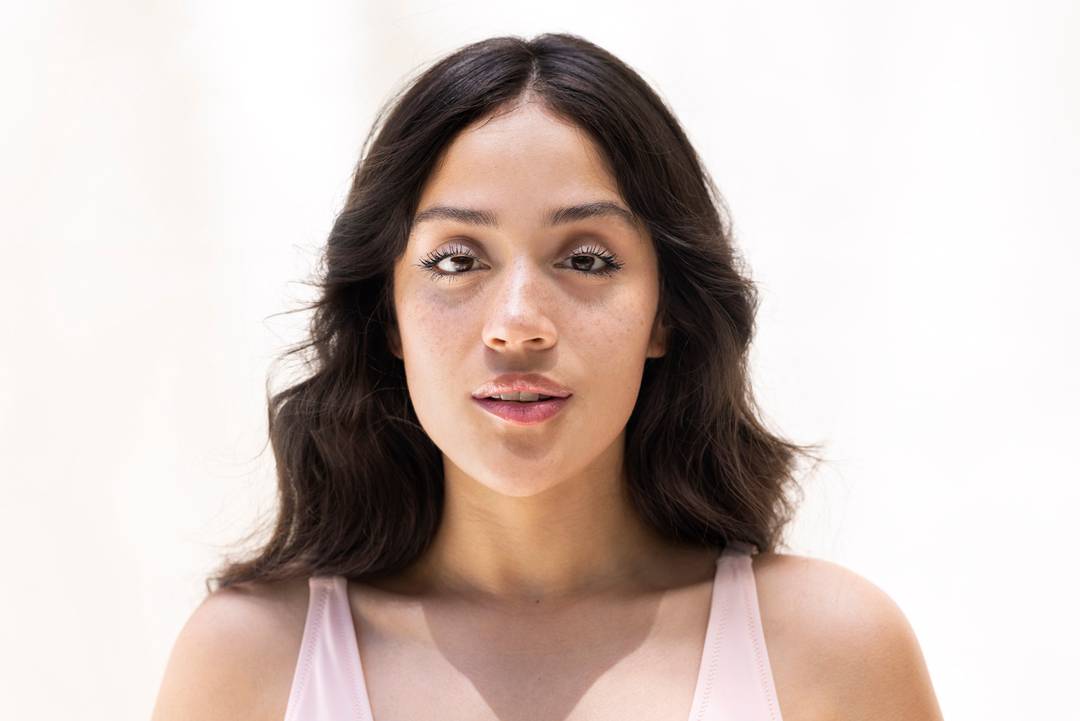 Clinical and Consumer Study
CLINICAL DATA
HYDRATION: Improved hydration on 97% of subjects
BRIGHTENING: Increased in 85% of subjects
FINE LINES: Reduction of fine lines was found on 76% of subjects
CONSUMER DATA
88% saw an improvement in skin health
88% agree the skin is radiant, smooth, and softer
---
*Twice a week use for 4 weeks. 30 subjects.
HOW TO MASK
Remove mask from foil and unfold. Remove the white backing and press mask gel-side down gently onto face, aligning cutouts to face contours. Peel of the blue backing.
Leave mask on for 15-30 minutes.
Take this opportunity to breathe, relax, and meditate.
Peel mask off and massage the remaining botanical serum gently onto face, neck, and décolletage.
While skin is still damp, follow up with your YINA botanical serum to seal in moisture.

Soothed, Hydrated, & Luminous
Visibly soft and hydrated complexion.
Skin feels soothed and calm.
After each mask, skin is more even toned and luminous.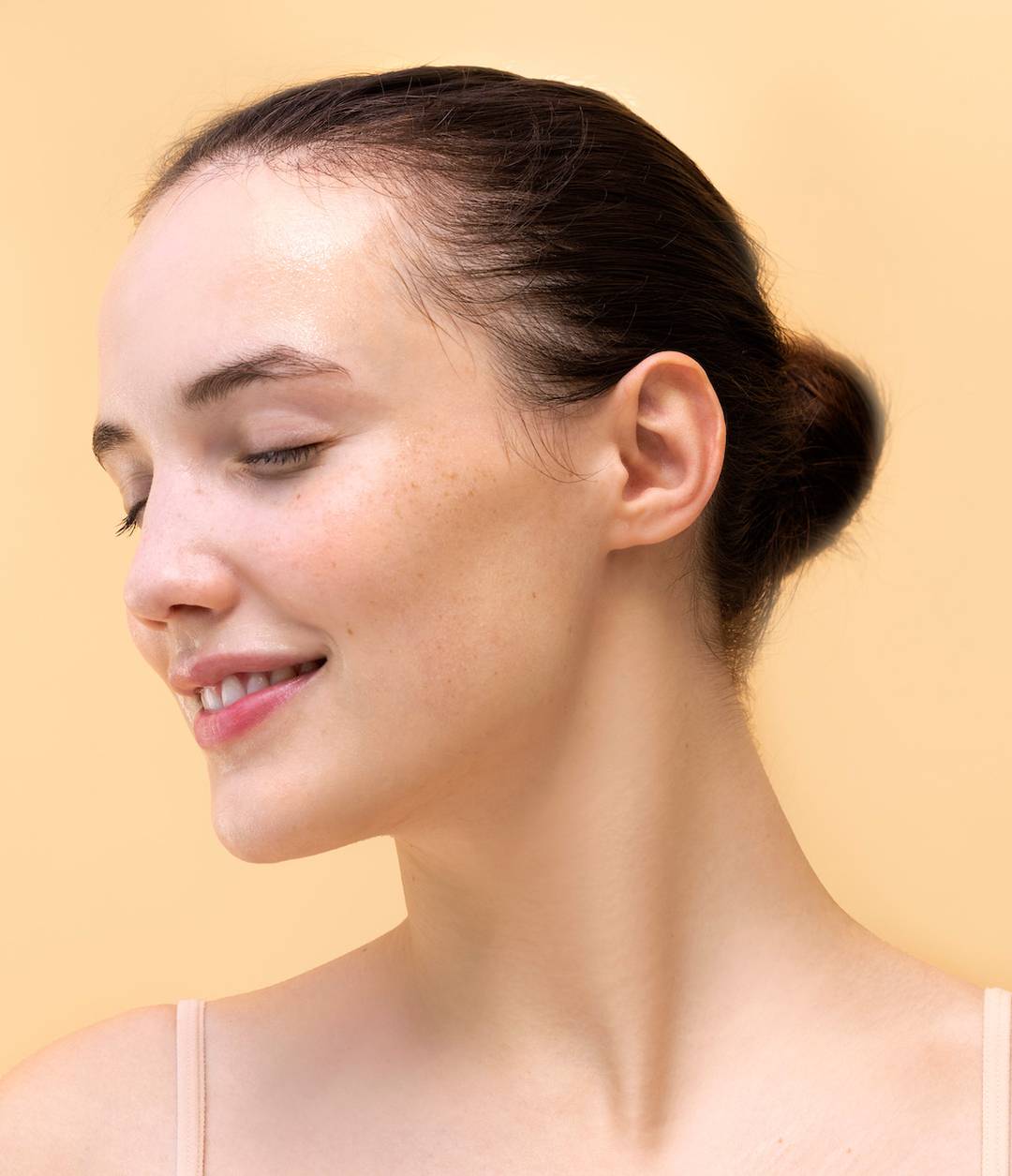 Energetics
Harmonizing and cooling. Offers a moment of respite for your skin and your mind.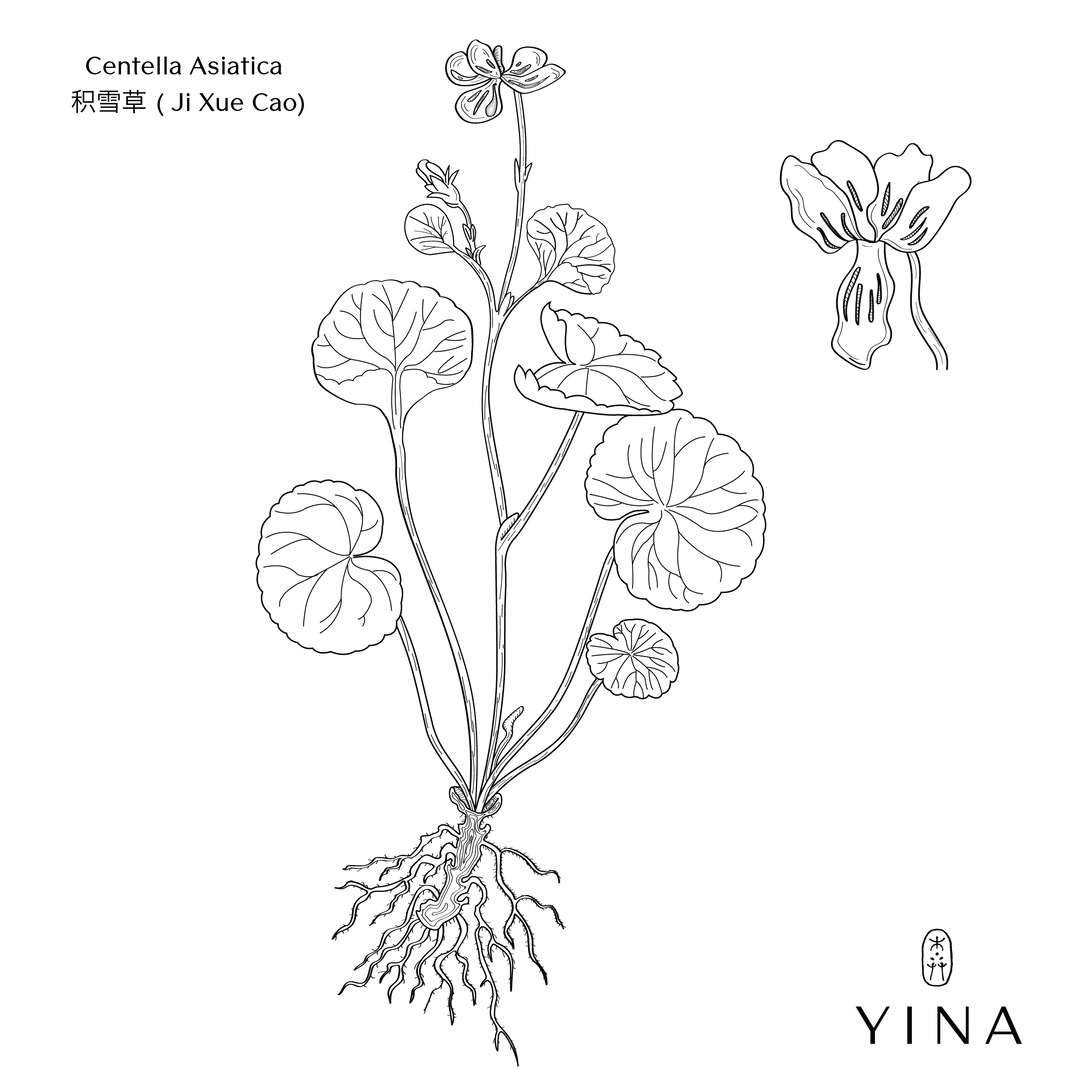 East Asian Medicinal Herbs
This multi-correctional sheet mask hydrates, plumps, calms, brightens, and rejuvenates your skin and mind.
Ginseng (人参)- adaptogen, strengthening, brightening
Centella(积雪草) - adaptogen, repairative, promotes elasticity
Jobs Tears(薏苡仁) - soothing, evens out skin tone
Ingredients
Xi Yang Shen (西洋参) - Panax quinquefolius

A powerful adaptogen that is deeply mineralizing. It energizes, boosts radiance, and brightens the complexion by metabolizing dead skin cells, leaving behind a healthy glow.

Ginseng

Ji Xue Cao (积雪草) - Centella asiatica

Centella extract is a hydrating powerhouse for all skin types, especially dry, sensitive skin. Madecassoside, found in Centella, is a powerful antioxidant that helps mitigate sun damage and revitalize the skin barrier.

Centella

Gan Cao (甘草) - Glycyrrhiza glabra/Glycyrrhiza uralensis

Licorice root is a potent herb that helps hyperpigmentation and dark spots, lightening discoloration on the skin. It contains glabridin, a UV-fighting superpower for extra protection, and is a very balancing herb in Chinese medicine known to harmonize Qi.

Licorice Root

Yue Jian Cao (月见草) - Oenothera biennis

This mighty oil possesses anti-inflammatory properties and contains omega-6 polyunsaturated fatty acids, which help to reinforce the skin barrier by retaining moisture reducing inflammation.

Evening Primrose

Dang Gui (当归) - Angelica sinensis

Chinese Angelica Root is a potent anti-aging herb rich in polysaccharides and antioxidants that stimulate collagen synthesis and rejuvenate the skin.

Angelica Root
Aqua, 1,3 Butylene Glycol, Glycerin, Tremella fuciformis(Snow Mushroom) Extract, Acetyl Hexapeptide-8, Caprylyl Glycol, Xanthan Gum, Pentapeptide-18, Sodium Levulinate, Sodium Anisate, Panax Ginseng root Extract, Dipotassium Glycyrrhizate, Centella asiatica (Tiger Grass) Extract, Oryza Sativa (Rice) Extract, Evening Primrose Oil, Allantoin, Zingiber officinale (Ginger) Root Extract, Zizyphus jujuba (Jujube) Fruit Extract, Glycyrrhiza glabra (Licorice) Root Extract, Eugenia caryophyllus (Clove) Flower Extract, Prunus mume (Plum Blossom) Fruit Extract, Cnidium officinale (Marsh Parsley) Root Extract, Angelica acutiloba (Japanese Angelica) Root Extract, Phaseolus radiatus (Mung Bean) Extract, Coix lacryma-jobi (Job's Tears) Seed Extract, Bletilla striata (Hyacinth Orchid) Root Extract, Trichosanthes kirilowii (Chinese Cucumber )Root Extract, Cimicifuga racemosa (Black Cohosh) Root Extract, Paeonia albiflora (White Peony) Root Extract, Rubus coreanus (Korean Blackberry) Fruit Extract, Pogostemon cablin (Geranium) Leaf Extract, Ginkgo biloba Extract, Lycium barbarum (Goji Berry) Fruit Extract, Erythritol, Hibiscus sabdariffa (Roselle) Fruit Extract, Hydrolyzed Pearl, Chenopodium Quinoa Extract

Disclaimer:
YINA does not test on animals. For external use only. If irritation occurs, discontinue use and see your physician. Our formulations may differ subtly, depending on the availability of raw ingredients. Please revisit our website for the latest updates. Store in a cool dark place, away from sunlight, below 27°C/80°F.
See all ingredients