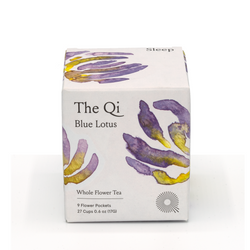 YINA
Organic Blue Lotus Tea
Feel a sense of calm and deep relaxation.
Hand-picked blue lotus whole flower tea. Unwind with it after a long day for a more restful night of sleep. With a delightful and fragrant aroma, it has full-bodied, earthy, and slightly bitter-tasting notes. 

The Qi flowers are 100% traceable, unadulterated, and sustainably sourced from small family-owned farms.

[ ✓ ] Organically grown  
[ ✓ ] Antioxidants  
[ ✓ ] Vegan  
[ ✓ ] Zero calories 
[ ✓ ] Non-GMO 
[ ✓ ] Naturally caffeine-free

Contains: 
27 x Cups
9 x Individual whole lotus flower packets
1 flower =  3 cups (after the 1st steep, refill hot water 2 more times)

Great for:
When you're feeling stressed, anxious, or overwhelmed.

Anytime when you need a moment of relaxation and inner calm.
To unwind after a long day in the evening for a better night of rest.

To share with a friend or loved one to connect and nourish.

Have it as a pairing to your fav snack.

How to enjoy:
Pour hot water (190-200°F) over one flower in a clear glass mug/pot, use a bamboo tong to weigh it down so it's completely submerged. Close the lid. Let it steep for 3-5 mins.

Sip and enjoy while taking in the sensory experience of delicate floral aroma and visual beauty of the flower unfurl and bloom again.